Fire Safety Tips
July 12, 2017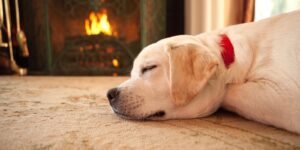 A pet is considered a valued member of any family and just as you'd implement a fire safety plan for your family, one should be implemented for your furry friend. On July 15th, 2017, we celebrate National Pet Fire Safety Day, here are some tips on how to protect your fur-baby in case of an emergency.
1. Extinguish Open Flames:
Always keep an eye out for open flames. Puppies are naturally curious and want to explore their surroundings. Having candles, cooking appliances, or a fire place turned on while your pup is alone or unattended could be hazardous for their safety.
2. Have A Plan When You're Home:
If you're home in the case of an emergency know who will be responsible for each pet. That way your fur-babies won't panic and remain safe in the hands of their loved ones.
3. Puppy Proof Your Home:
Walk around your home and look for potential things that your puppy could mistakenly start a fire with. Things such as stove knobs, loose wires, and other dangerous objects.
4. Keep Your Puppy Near an Entrance:
While you're away try to keep your puppy close to an entrance. If a fire occurs a firefighter can easily access your furry friend rather than them having to waste time searching for your beloved companion.
National Pet Fire Safety Day is an important reminder of how crucial it is to have a plan in place for your puppy's safety. We hope these tips are useful and help you keep your best friend out of harm's way.