Homemade Pumpkin and Peanut Butter Treats!
October 10, 2017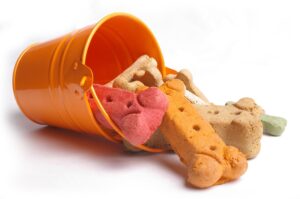 It is finally that time of year! Halloween is around the corner, and what's better than spoiling your fur-baby with some delicious homemade treats. Pumpkin and peanut butter are among the most delicious flavors your puppy is sure to love.
Ingredients:
2 cups of flour
2 eggs
1/2 cup pure 100 percent pumpkin
1/4 ounce jar pure carrot baby food
2 spoonfuls of peanut-butter
Directions:
Preheat the oven to 350 F.
In a bowl mix all the ingredients together.
When completely mixed, knead the dough using your hands.
If the dough is too sticky add more flour to it and if it is too dry add a few spoonfuls of water.
Here comes the fun part, take out your favorite cookie cutters and start cutting.
Spread these cookies on a baking sheet, make sure it's floured.
Make a ball of the left-out dough, flatten it again and cut it out into more cookies.
Repeat this process until all the dough is used.
Once your baking sheet is full, place it in the oven and bake for 20-25 minutes.
When the treats have reached a golden color. Let the treats properly cool off before giving them to your puppy to avoid any burns. We hope you and your best friend enjoy your homemade pumpkin and peanut butter treats!