6 Puppy New Year's Resolutions
December 29, 2017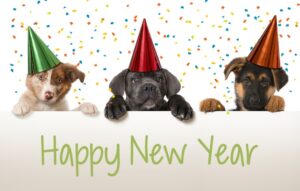 New Year is all about new beginnings. Here's a couple of New Year's resolutions you and your pup are sure to love!
#1 Try a new activity with your pet.
Take yourself and your puppy out of the comfort zone and try new activities. Activities like dog hiking or puppy yoga are great ways to exercise and are the perfect time for some bonding.
#2 Practice brushing your puppy's teeth.
Daily brushing is the best way to keep your puppy's mouth clean and keep the plaque away. Make sure to always use toothpaste that meets your pup 's breed and needs.
#3 Get a pet ID collar.
Having an updated pet tag is very important to ensure your puppy will safely return home in case they wander off.
#4 Potty train your puppy outside.
Sometimes we conform to having our puppy solely using wee wee pads but it can be uncomfortable when guest visit. The smell of potty can creep up on your house, which is why training your puppy to potty outside is better!
#5 Socialize your puppy.
Socializing your puppy with different pets and people is crucial, it's never too late to take your puppy out and introduce them to friendly people and pets.
#6 Teach your puppy new tricks.
Teaching your puppy new tricks is the best way to bond with your furry friend. Teaching your puppy tricks like how to high five is incredibly easy and fun to learn.
Start this New Year off with a healthier and more entertaining routine you and your puppy will enjoy.
Happy New Years from the Petland Family!